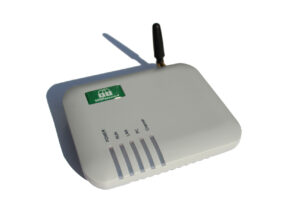 The A100 SMS dispatcher is a hardware device that allows SMS messages to be send over the GSM network from an ethernet connection. When the mobile phone SIM card is installed in the A100 SMS dispatcher, the A100 accepts messages over the ethernet connection to send Short Message Service messages. The A100 works with the SMSPassword service, and allows the SMSPassword service to dispatch SMS messages to users.
The A100 SMS dispatcher should be placed on your LAN/private network.
The user manual for the a100 SMS dispatcher can be found here.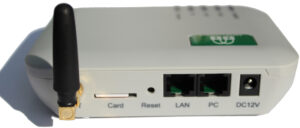 Parameters of equipment
| | | |
| --- | --- | --- |
| Power | DC12V/2A +- 10% | |
| GSM band | 900m/1800m | |
| Power consumption | Max 5 W | |
| Network adapter | 2 RJ45 | |
| Weight | 0.10KG | |
| Operating temperature | 0-40 C | |
| Operating humidity | 40%-90% not congealed | |